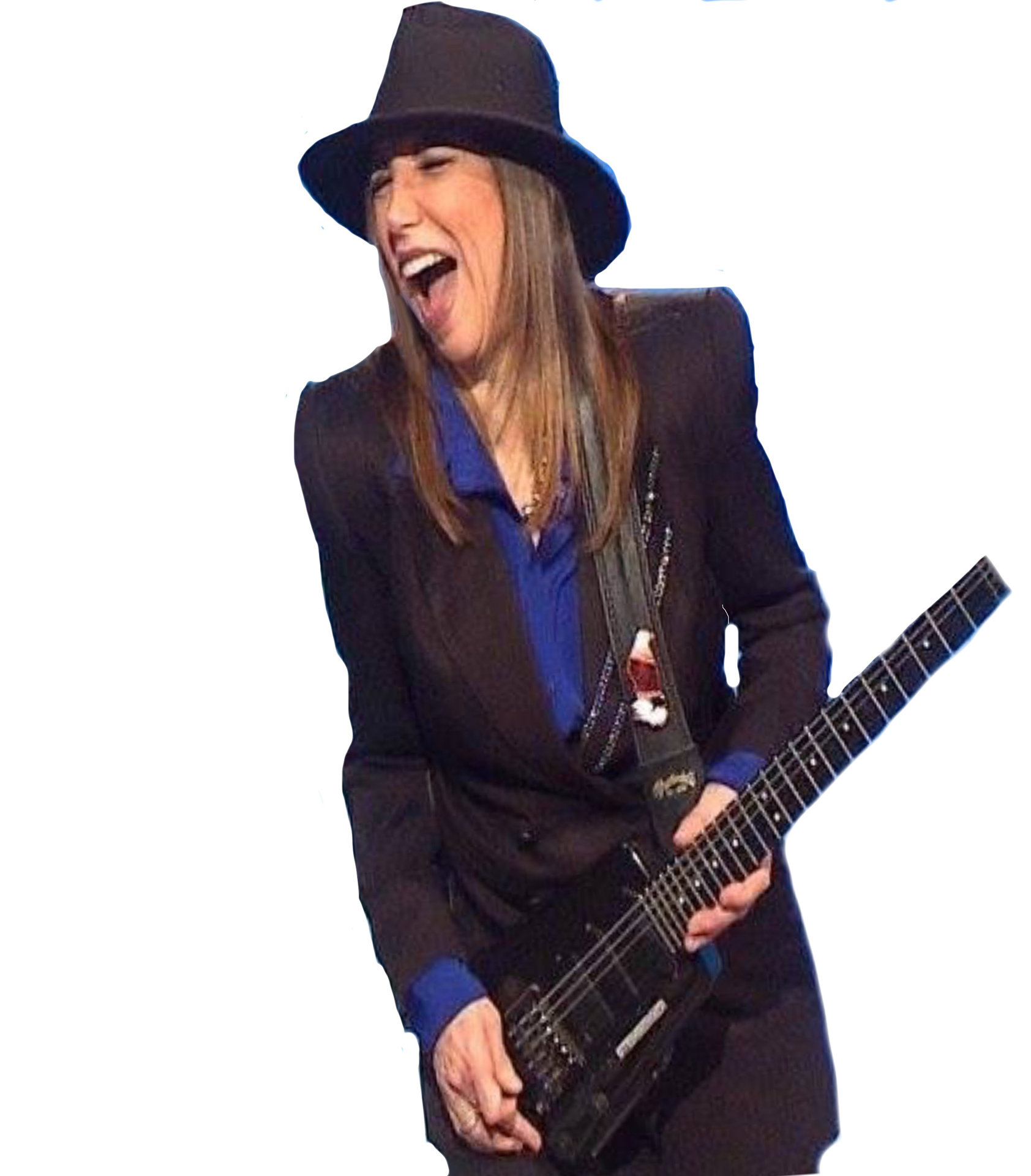 Education:
•Graduate of Berklee College of Music, Boston, MA
•Degree in Arranging and Composition
•Major Instrument: Guitar
Memberships:
•SAG-AFTRA
•Musicians Local 802, A.F. of M.
•The National Academy of Recording Arts and Sciences (N.A.R.A.S.) Voting member.
•Broadcast Music, Inc. (B.M.I.)
Songwriting Credits:
•Grand Prize Winner of the "New York Songwriter's Showcase"
•Co-wrote three original songs with the late Doc Pomus: "My Favorite Song"; "If You Can't Say Yes"; and "Inner Connection"
•Her original song "Dogen, Connor & Tupelo" is featured on the DVD of the movie "The Wild Parrots Of Telegraph Hill"
•Has recently worked with engineer/producer Don Casale. Click HERE to watch YouTube video.
•Performed at the 111th AES Songwriter's Showcase.
Endorsements:
•Steinberger Guitars
•Gibson Guitars
•LaBella Strings.
Film, Television and Theater:
Movies:
• "The Post" 20th Century Fox / Director: Steven Spielberg
• "Working Girl" 20th Century Fox / Director: Mike Nichols
• "Jade" Paramount Pictures / Director: William Friedkin
• "A.K.A. Doc Pomus" Movie Credits and appearance in the documentary. Directors: Peter Miller and Will Hechter.
• "The Wild Parrots of Telegraph Hill" Pelican Media Production (extra on DVD – music video of original song "Dogen, Connor & Tupelo").
• "Never Too Old" Documentary presented by the Music Performance Trust Fund-MusicianFest
Theater:
•The Kennedy Center, Washington D. C., with the Peter Duchin Orchestra featuring special guest performers Joe Wilder and Mary Cleere Haran.
•The New York Fringe Festival performance of "Urban Momfare" at Theater 80 in New York City.
•Paramount Theater, Oakland, CA.
•Sacramento Theater, Sacramento, CA.
Television:
•NBC's TODAY SHOW with Peter Duchin.
"Four Weddings" on TLC
•Dr. Greenfield Family Pet Show" with Mark Bittner NEWS 12 Long Island.
•"Channel 12 News", Long Island
•"Good Day New York" FOX-TV
•"Regis and Kathy Lee Show" ABC-TV
•"Today Show" with Peter Duchin celebrating Pres.
•President Clinton's 50th birthday NBC-TV.
•"Loving" ABC-TV
•"The Morning Show" CBS-TV
•"Black Entertainment Television" B.E.T.
•"Goodmorning America" ABC-TV
•"Ginger New York TV" MNN-TV, Manhattan Cable
Has accompanied on guitar:
Stockard Channing
Ron Rifkin
Sara Jessica Parker
Mary Cleere Haran
John Guare
Debra Monk
Peter Gallagher
Kate Burton
Phyllis Newman
The Crystals
Cleo Lane and John Dankworth
Darlene Love
Nellie McKay
Al B. Sure!
Kathy Lee Gifford
Jennifer Holliday
Natalie Cole
Louis Price (The Temptations)
Dominic Chianese ("Soprano's")
Performances and Parties:
•Presidents:
Ronald Reagan Inauguration and Christmas party at the White House.
Gerald Ford – the Lone Sailor Award Dinner in Palm Springs, CA.
George Bush, Sr. Inauguration.
Bill Clinton Inaugurations.
George W. Bush Inaugurations.
•Queen Elizabeth's Wedding Anniversary & Prince Edward's Birthday at Windsor Castle.
•Have played the annual New Year's Eve Gala for the New York City Metropolitan Opera House for many years.
•100th Anniversary of Carnegie Hall and many other important milestone anniversaries for Carnegie Hall.
•Human Rights Campaign (HRC) 14th Annual Greater New York Tee Off For Equality Golf Outing and Dinner 2017.
•The annual Animal Rescue Fund in East Hampton, NY.
•New Years Eve at Cafe Carlyle with the Peter Duchin Orchestra.
•Played the 80th Anniversary of the Jupiter Island Club, in Hobe Sound, FL, with Peter Duchin,
•Bob Hardwick and Mike Carney, April 2014.
•Special performance at the Guitar Heroes Exhibition at the Metropolitan Museum of Art, 2011.
•Cincinnati Pops Orchestra, Cincinnati, Ohio.
Conductor: Erich Kunzel
•Sang the National Anthem for both the New York Rangers and the New York Islanders at the Nassau Coliseum
•Also have performed with various artists such as: Sony Recording artist Nellie McKay, Natalie Cole, Sarah Jessica Parker, Ron Rifkin, Debra Monk, Kate Burton, Buster Poindexter, Al B. Sure!, Mary Cleere Haran, Kathy Lee Gifford, Jennifer Holliday and Louis Price (of The Temptations)
•Brooke Shields Birthday Party.
•Sarah Jessica Parker and Matthew Broderick's Wedding.
•George and Charlotte Schultz wedding and George Shultz 80th & 90th Birthdays
•Brooklyn Botanical Gardens 100th Anniversary.
•The Annual Century Club Gala, New York City
•Glimmerglass Annual Fund Raiser at the Metropolitan Club, NYC
•The Annual International Red Cross Ball in Palm Beach, Florida
•The Annual Sun Valley Writers Convention in Sun Valley, Idaho
•Eight "Save Venice" fund raisers in Venice, Italy.
•Various parties for the Ford family at their private residence and at the Ford Motor Company Headquarters.
•Sir James Goldsmith family at the Restaurant Laurent in Paris, France and in London.
•The Trump Family at the Plaza and Mar-a-Lago.
•American Academy of Rome in Rome, Italy.
•The Annual Blue and Grey Colonel's Ball in Montgomery, Alabama
•The Annual Marvin Davis Christmas Party in Los Angeles.
•The 150th Anniversary of Cunard's Trans-Atlantic Crossing on the QE2 from NY to South Hampton, England.
•Played on Cunard's QE2 from Hong Kong, Manila, Vietnam and Thailand.
•Lincoln Center's Midsummer Nights Swing Concerts with the Peter Duchin Band and as a solo artist.
•Annual fundraisers for City Opera at the State Theater in Lincoln Center.
•The King Ranch for the King Family.
•Annual opening nights of the Old Westbury Gardens Concert Series
•Annual New Years Eve Galas at the Ocean Reef Club, Key Largo, FL
•Annual Peace Links Party at the Capitol Hilton, Washington, DC
•Played private events in Morocco; Nice, France; Arles, France; The Hotel Du Cap in Antibes; Canada, Bermuda, Hawaii
• Performed notable memorials with Peter Duchin Orchestra such as Arthur Schlesinger and Liz Smith.
….and much more.
Awards
Recipient of the Albert Nelson Marquis Lifetime Achievement Award
https://wwlifetimeachievement.com/?s=roberta+fabiano
Listed in:
•Who's Who in American Women
•Who's Who In America
•Who's Who in Entertainment
•Who's Who of Emerging Leaders in America
•Who's Who in the East
Record Label Experience:
•Frog Hollow Music
•Pedro Records
•Cats Paw Records
•TK Records
•Columbia Records.
Work Done On Commission:
Can be discussed. Please contact me…